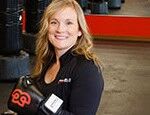 Jacque Whiteford
I joined Farrell's for the spring session of 2015 because I was not making my health a priority. Working full time and earning my MBA degree, I felt as if i had no time to work out. I needed a gym that provided me the how, and challenged me each time I stepped onto the mat. I found Farrell's kickboxing and strength training classes did just that!
During my 10 week challenge, I only missed one class. I gained confidence and strength that i use every day. Shortly after I completed my 10 weeks, I became a coach, and soon after that, I became an instructor. Now I am excited to bring Farrell's to the Mankato community!
Health, fitness, and nutrition have always been a major part of my life. I have completed several half and full marathons and most recently, completed my first Tough Mudder, which was in Colorado with my Farrell's family.
Farrell's cardio kickboxing, strength training, and nutrition program continues to change many lives and I want to be a part of it!