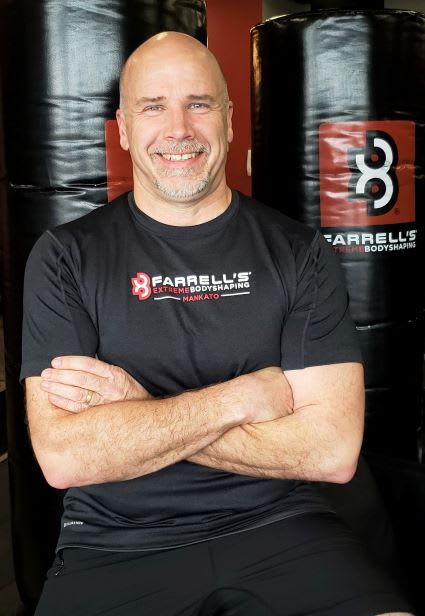 Rick Moore
I joined Farrell's Mankato in March 2019 after my son was a member and had invited my wife and I to try a few classes. After that first kickboxing class and strength training class, I was hooked. In the past, I had joined a few gyms, but the motivation, structure and community was not there. Also nutritionally, I had lost weight on programs that focus on shakes and bars, but it felt like something was missing.
Joining Farrell's allowed me to focus on those specific things I needed from gym. The structure of the classes allowed me to stay connected to the workout and feel like I accomplished my workout for the day. This translated into my motivation with Farrell's as I saw changes in my body, changes in my endurance, and changes in my overall outlook on my fitness journey. The greatest part of Farrell's, though, is the community. I look forward to coming to the gym and connecting with those who are also on this fitness journey and share my love of Farrell's.
In the spring of 2021, I was asked to be an instructor and loved instructing. I started out with Strength Training classes, helping the members improve their muscle tone and strength while also working on my muscle tone and strength. In August 2022, I started instructing Kickboxing classes and loved the energy in the room when instructing these classes and seeing everyone pushing themselves to their Level 10. Farrell's truly is a family and a community of individuals, who find the structure, the motivation, and the community an important part of their fitness and overall lifestyle. I look forward to everyday that I can walk through the front door at FXB Mankato and continue to improve myself with the support of this awesome community.